[ad_1]

Way of the Hunter takes players into open-world environments in the United States and Europe to hunt wild game like true sports hunters. They'll explore vast and beautiful landscapes while handling very realistic weapons. Players will be deeply immersed in a truly one-of-a-kind experience with the most detailed imagery of animals in their natural habitats.
Related: Beginner Tips For Way Of The Hunter
They have the option of co-op or solo play, taking on the role of the owner of a new hunting lodge. Part of the game involves choosing the right weapon for the hunt. With several options to choose from, players will need to select the best one for the job, whether it's a shotgun or a long rifle. They each have their benefits and shortcomings, but these are the best Way of the Hunter offers.
7/7

Morning Silence
Morning Silence is a 20 gauge semi-automatic shotgun that holds four rounds. While it is a Tier 1 weapon, it is one of the best shotguns available. Its price is very affordable at 1,400.
It offers players ease of use when firing off in rapid succession. This shotgun is best used for small game. Players will find it ideal for birds and rabbits, among other small animals.
6/7

Hol-Den The Jack 1502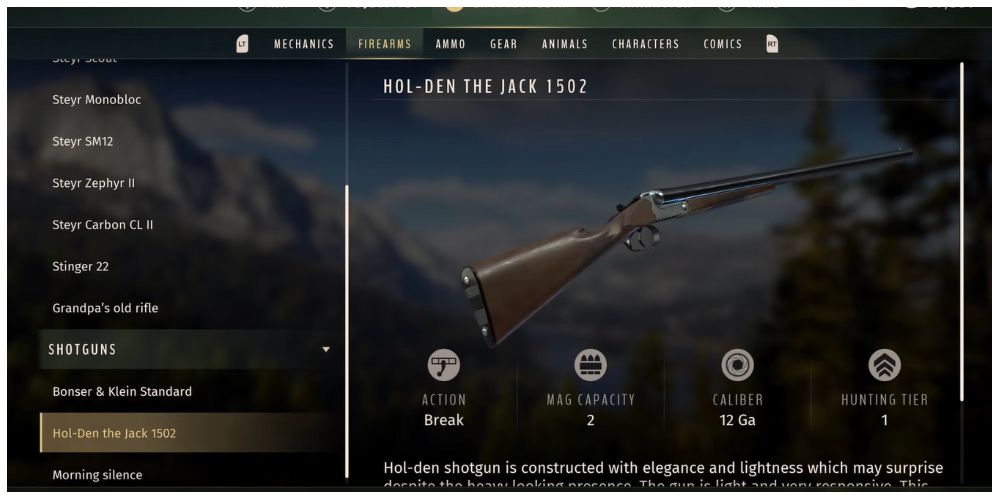 Hol-Den the Jack 1502 is the best shotgun available in the game, but also the most expensive gun out of all of them at 11,570. It is a 12-gauge shotgun and has a capacity for two rounds.
Related: Things We Loved About Way Of The Hunter (& Things We Didn't)
This firearm is both lightweight and responsive. It is one of the most ideal weapons to hunt small game with. It is classified as a Tier 1 weapon.
5/7

Steyr SM12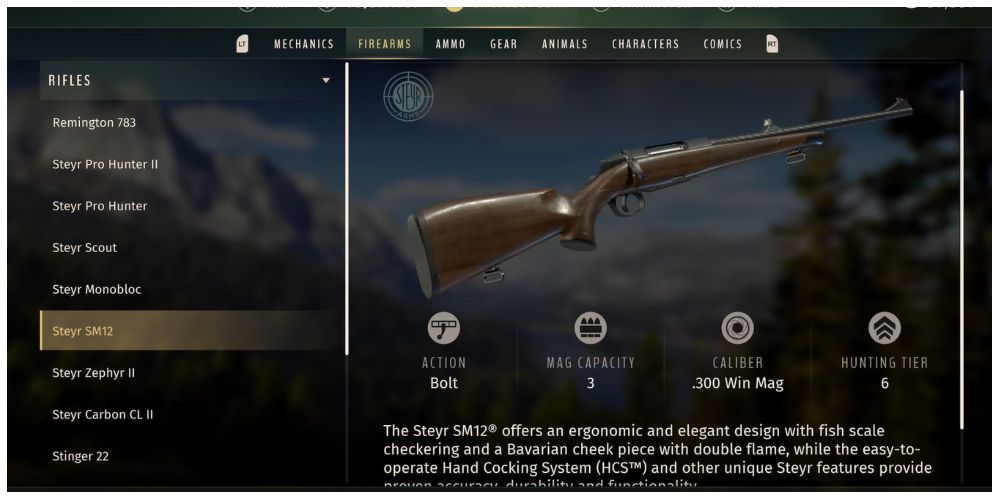 A great beginner weapon, the Steyr SM12 offers straightforward to use and is relatively more affordable than other options. However, they will have to work toward owning this weapon as it is a Tier 6 rifle, but it will be worth the effort once they can purchase it. It has a 3-round capacity and uses .300 Win Mag bullets.
This bolt-action rifle features excellent qualities that make it one of the best options for players to select for large game. While it's great for deer and wild boar, it can even take down a bear. The price is relatively low at 3,900.
4/7

Steyr Scout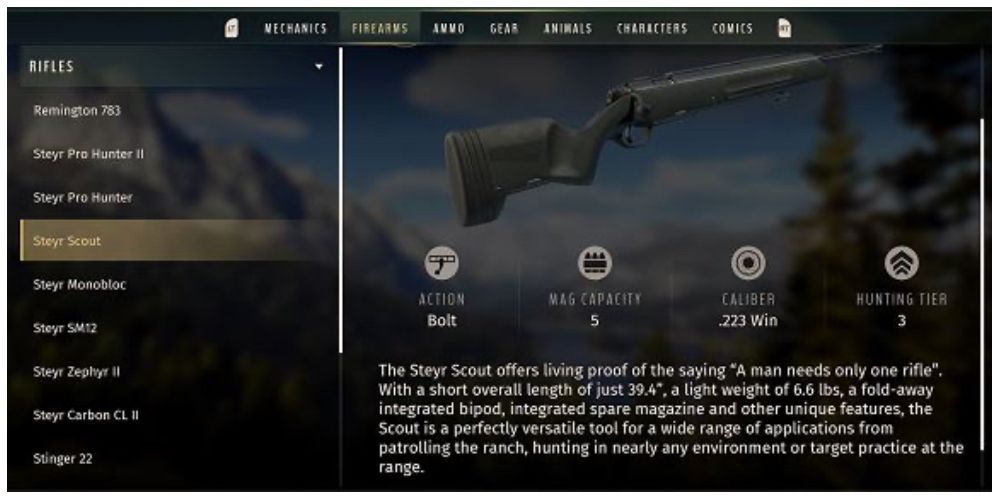 The Steyr Scout is a great all-around hunting rifle, allowing hunters to aim for the long-range or short-range game. Its main downside is its limitation in only being able to hunt smaller animals at a great distance effectively. Getting closer, which some players may find difficult, players can effectively and ethically hunt white-tail deer and gray wolves.
This rifle is bolt action and ranked at Tier 3. Its magazine capacity is 5, and it uses .223 Win bullets. Its weight is only 6.6 pounds, making it lightweight and easy to carry around regardless of where the hunter is headed. The cost for this rifle is relatively low, at 2,275.
3/7

Steyr Monobloc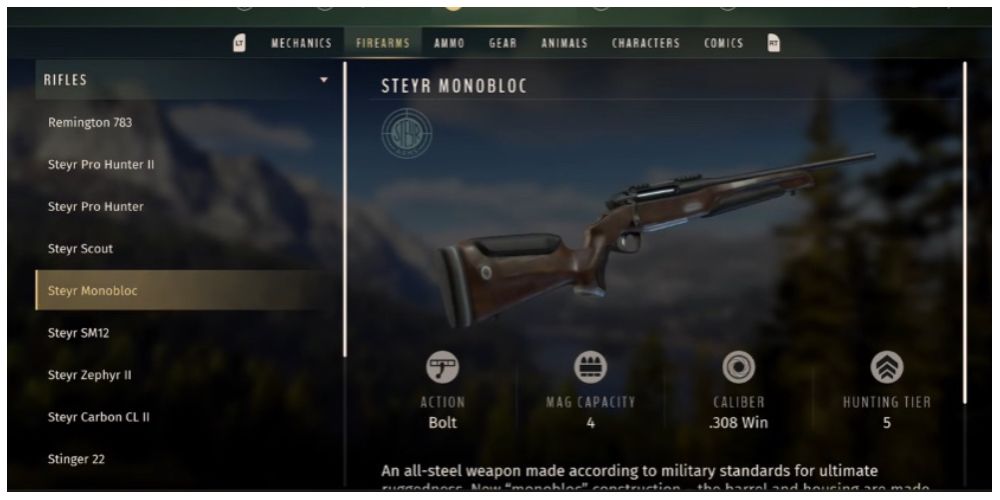 Out of all the Tier 5 weapons available, players will pay the most for the Steyr Monobloc at 6,760. However, it is worth the investment. Using .308 Win ammo, it holds four rounds. Players can hunt everything from the gray wolf to the American black bear with this powerful rifle.
Related: Best Bounty Hunter Games
It has excellent accuracy, allowing for perfect hits from a distance. The accuracy comes from the barrel and the stock being made from one uniform piece, maximizing the gun's precision. This rifle is one of the most comfortable for the hunter, and its stock can be modified in several ways.
2/7

Steyr Carbon CL 2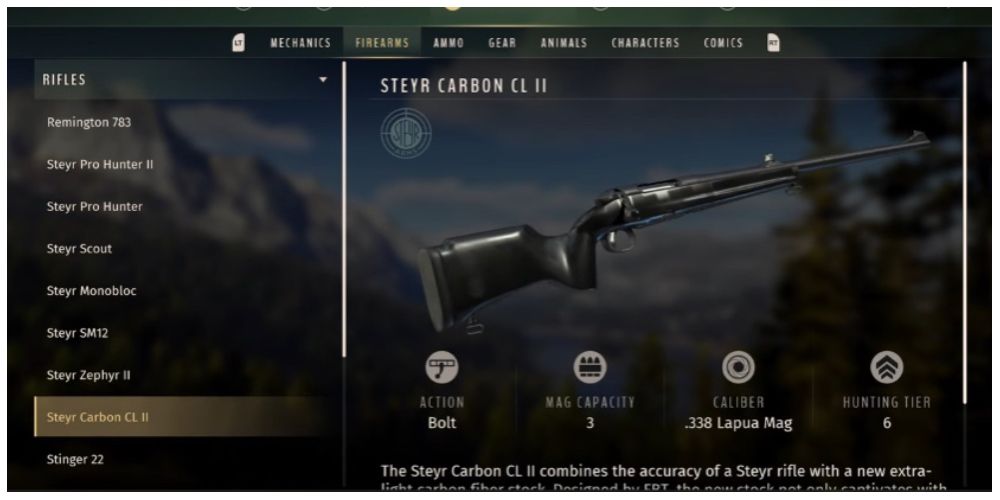 The Steyr Carbon CL II features a sleek all-black design that any hunter will love. This rifle is a Tier 6 weapon and is excellent against the large game, especially bears. However, due to its high quality, it is a bit pricey at 5,590.
It is lightweight and offers excellent stability, allowing for the utmost precision when taking those long-range shots. This bolt-action rifle uses .338 Lapua Mag ammo and has a magazine capacity of 3. Hunters will have no problem carrying this rifle as they explore, looking for the perfect target.
1/7

Steyr Pro Hunter 2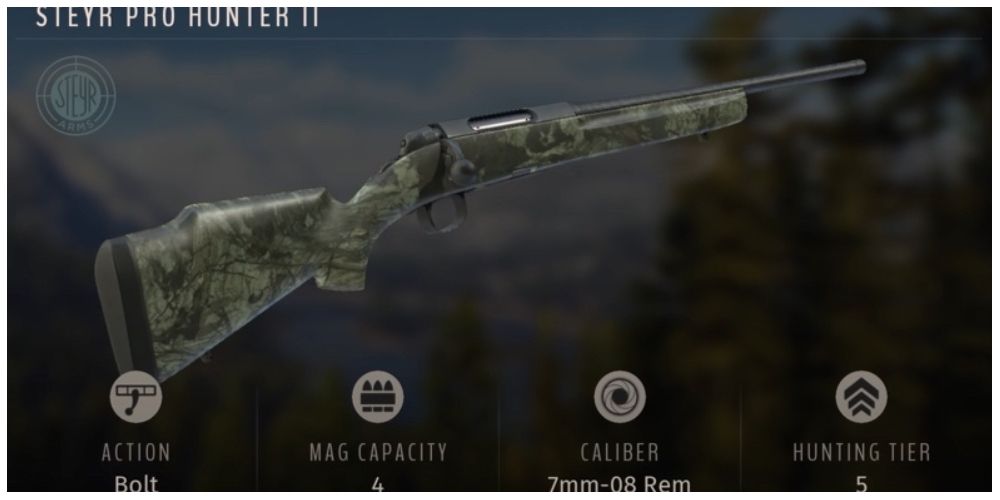 The best option for hunting deer in the entire game is the Steyr Pro Hunter II. This rifle is a Tier 5 weapon that features a cold hammer-forged barrel. Players looking for a little bit of style will enjoy the Mossy Oak finish on the rifle that sets it apart from the rest.
This rifle has a magazine capacity of 4, keeping up with the average of the guns in the game. It features bolt action and relies on 7mm-08 Rem ammo. It is the ideal rifle for long-range targets, allowing the hunter to get that elusive deer. However, it's not just limited to deer, as it will be able to take down other large game based on its Tier level.
Way of the Hunter is available now for PC, PS5, and Xbox Series X/S.
More: Monster Hunter Rise: Sunbreak – What Is The Frenzy Virus?
[ad_2]

Source link