[ad_1]

In "Please Hold My Hand," the fourth episode of HBO's The Last of Us, Joel (Pedro Pascal) and Ellie (Bella Ramsey) cut through the ruins of Kansas City, Missouri en route to Wyoming, only to end up in a gunfight with three people they assume are bandits. Viewers are introduced to Kathleen (Melanie Lynskey), the leader of this group of revolutionaries, but she's not the only one-screen debut in Episode 4. Although not a character, Ellie's joke book, No Pun Intended: Volume Too, made an appearance on The Last of Us to the sheer delight of the game's fans.
Kathleen's manhunt for Henry (Lamar Johnson) — someone who wronged her — quickly grows to include Joel and Ellie, which provides a lot of intrigue. Plus, it's a marked shift from the previous week's quiet-but-breathtaking character study. Still, it's the jokes — which punctuate the episode and help shape Joel and Ellie's fledgling bond — that really stand out. Ellie's joke book isn't just about breaking up the onslaught of post-apocalyptic brutality with some cheesy humor. In fact, the joke book says a lot about the character, and points to an emotional thread from The Last of Us: Left Behind that fans are hoping to see come to full fruition on screen.
RELATED: The Last of Us: Is Melanie Lynskey's Character From The Game?
What Is The Last Of Us: Left Behind About?
If stories of queer love set against the backdrop of post-apocalyptic America are your thing after "Long Long Time," the staggering third episode of HBO's The Last of Us, you'll want to set a reminder for February 26. That's the Sunday that Episode 7 of the hit series will premiere. Written by the show's co-creator Neil Druckmann, who also wrote Naughty Dog's The Last of Us game series, and directed by Liz Johnson (Dead to Me; What We Do in the Shadows), the seventh episode takes its name from the subtitle of the game's DLC (downloadable content) expansion, The Last of Us: Left Behind.
In Left Behind, players take control of Ellie (voice of Ashley Johnson) to navigate two storylines: one is set during the "Winter" chapter of The Last of Us, and the other set three weeks before the events of the first game. The "Winter" section certainly fills in gaps in the first game's story: it shows how Ellie cared for Joel (voice of Troy Baker) when he was injured, and sees Ellie scavenging a decrepit Colorado mall for medical supplies.
Still, it's the prequel content that's most compelling — by far. Also set in an abandoned mall (though this time in Boston), the prequel thread centers on Ellie as well as Riley Abel (voice of Yaani King). Mentioned by Ellie in The Last of Us game — and, in brief, in early episodes of the show — Riley was a close friend, a partner and a partner in crime. She shaped Ellie in profound ways. And players get a glimpse of that relationship and its impact in Left Behind.
After a mysterious absence from the FEDRA-run military boarding school they grew up in, Riley shows up, revealing to Ellie that she's become a Firefly. Riley then takes Ellie to the abandoned shopping mall to have some fun, though she strategically avoids the deeper "Why are we here?" questions for a while. Eventually, Riley tells Ellie that the Fireflies assigned her to another city; although Marlene (voice of Merle Dandridge) forbade it, Riley has come to say her goodbyes.
Ellie pleads with Riley, hoping she'll stay; the two even share a kiss — which, at the time, was a breakthrough moment for inclusive video game storytelling. Obviously, none of this ends well. It's a fleeting moment of joy, but it impacts Ellie — and the player — in a huge way.
The Importance of Ellie's Jokes in The Last of Us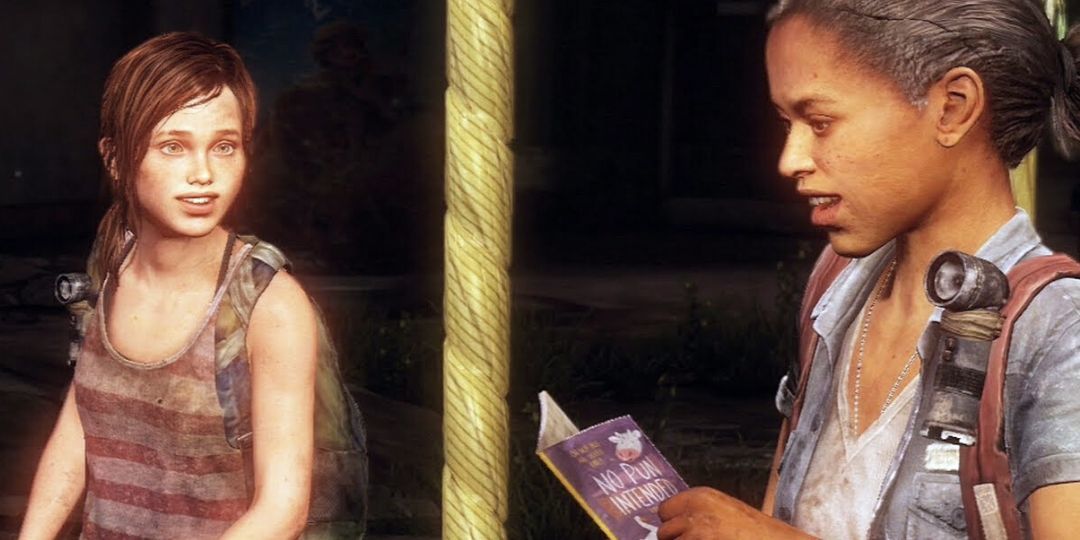 Left Behind won numerous awards, including Golden Joysticks and BAFTAs, for its deft storytelling and for Ashley Johnson's performance as Ellie. SXSW Gaming Awards even gave Ellie the honor of Most Valuable Character. The prequel sections of the DLC do much of the emotional heavy-lifting: Riley and Ellie aren't so much looking for trouble as they are looking to be kids — to have fun — in a Cordyceps-ravaged world — and in a military-operated Quarantine Zone (QZ).
The teens find Halloween masks, and, in contrast to the series' gunfights, get into a water-gun fight of their own. In the chapter "Fun and Games," Riley gives Ellie a gift: No Pun Intended: Volume Too by Will Livingston — a book that promises its reader will "be the life of any party! Or perhaps the death of it." In Left Behind, players can sample some of the book's puns, including one featured in Episode 4 of the show: "Diarrhea is hereditary… It runs in your genes." Although silly, the joke book is a lifeline for Ellie, especially in The Last of Us: Part 1, and co-creator Craig Mazin (Chernobyl) was keen on bringing this to the series, too.
In terms of gameplay, Ellie's joke book doesn't offer much. There's no functional reason for it. Instead, it exists to add texture to the character, and provide a jumping off point for Ellie and Joel to start talking and really connect. Speaking to The Last of Us Podcast, Mazin called the joke book's inclusion in the game, "gratuitous but lovely and human." HBO's The Last of Us has found success in taking it slow, and, for Mazin, Ellie's joke book meant players could "take the time to stop, look around, experience the beauty of the world that had been created."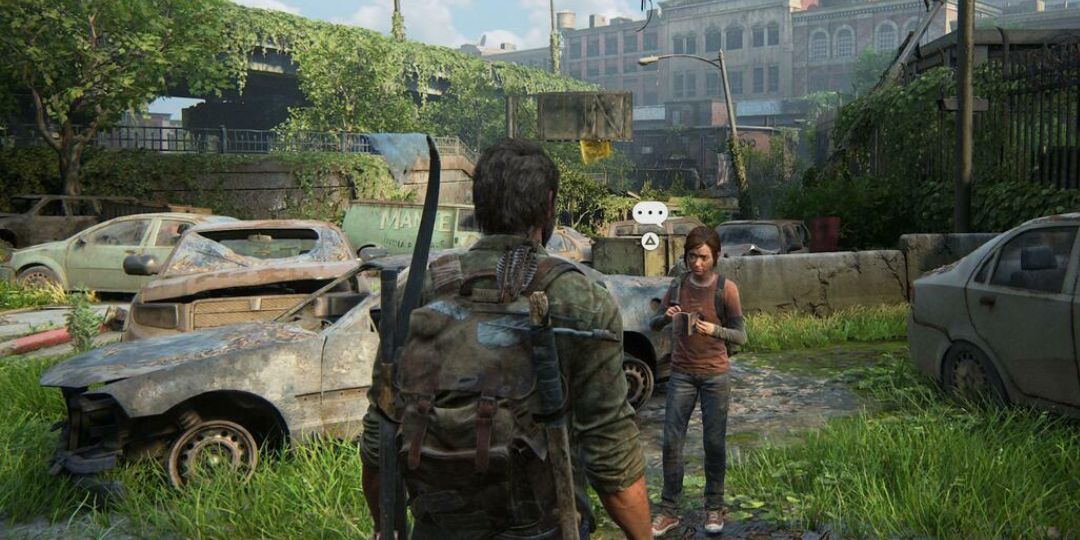 Mazin went on to discuss the perils of adults writing teens; often, they sound too old or too young. Taking a term coined by his friend Scott Frank, Mazin dubs Ellie's age the "f*** you, tuck me in" moment in adolescence. Ellie's eager to carry a handgun, but, when it comes to using it to save Joel in Episode 4, that assuredness vanishes. The joke book encapsulates that give-and-take. "I love how Ellie has this joy for something so juvenile and stupid, and she knows it's stupid but she loves it and it's honest joy," Mazin said.
Ellie's Joke Book: What It Means To Come of Age In The Apocalypse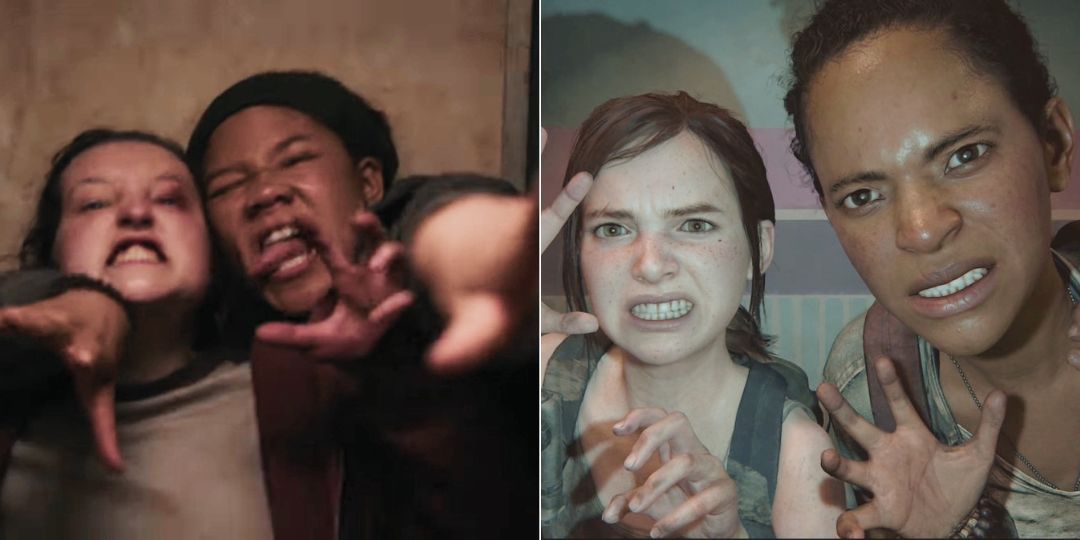 Throughout "Please Hold My Hand," Ellie uses the joke book's puns to break the ice with Joel. He isn't the most willing to open up, but something coaxes him to talk about Tommy and how he ended up in the QZ. Yes, he refers to Ellie as "cargo," but, thanks to the joke book, Ellie is reminding him a bit more of Sarah, maybe — of her love of banter and wisecracks.
Whatever the case, it allows Joel and Ellie to get a bit closer and develop more trust. At the end of the episode — after Ellie has saved Joel's life and Joel teaches Ellie how to hold a gun properly — a pun from the joke book finally causes Joel to laugh. It's the perfect final exchange at the end of an episode that started to really build their relationship dynamic. In the game, Ellie's joke book serves a similar purpose.
Given how much the joke book, No Pun Intended, comes to deepen Joel and Ellie's relationship and provide texture to the otherwise melancholy world of The Last of Us, it's great to see it put to good use in the show, too. Ellie becomes pretty synonymous with bad puns in the game; as Mazin pointed out, it shows Ellie's age, no matter how hardened the teen has become on the outside.
Absurd though it may seem to read from a joke book in a post-apocalyptic world, the act of it reinforces that Ellie's a kid, and reminds us all of the importance of finding joy. In Episode 7, "Left Behind," a joke book may very well be a gift from Riley, as it was in the game, adding more significance to Ellie's attachment to the joke book in Episode 4. If bad puns are a means of conveying the unadulterated joy Ellie and Riley shared, we'll listen to tons more stupid jokes. After all, Clickers can't be the only fun guys around…
New episodes of The Last of Us premiere on HBO and HBO Max every Sunday through March 12.
[ad_2]

Source link