[ad_1]

PUBG Mobile new map: Nusa to join the game next month
Nusa will be PUBG Mobile's second exclusive map and half the size of Livik.
PUBG Mobile is getting a new map, and it's going to be pretty different from all of the other ones in the game right now. Nusa is an upcoming map that will be released sometime in September.
The map was officially announced during day two of the PMPL MY/SG/PH Country Finals. After Livik, this will be the second mobile-exclusive PUBG Mobile map. Read on to know more about the upcoming map.
Nusa will be just 1×1 kilometers in size
PUBG Mobile's latest map, Nusa, is set to be the battle royale title's smallest map. The map has a size of just 1×1 kilometers, which is half of Livik and 1/8th the size of Erangel. Yes, you read that right.
The casters in the PMPL revealed some more details about the map. It will have some exciting places for players to explore such as a secret cave, a mansion with three swimming pools, and a Monster Truck.
Additionally, the small map will also contain a new weapon for players to try out. The NS 200 is an upcoming shotgun to the game, but nothing about it has been revealed yet.
Nusa was revealed in a PUBG Mobile beta earlier this month
While this is the first time Tencent has confirmed that Nusa is coming to PUBG Mobile, the new map was playable in a recent beta of the game, though.
Several YouTubers have made videos on the new map and have shown players what to expect. By the looks of it, Nusa appears to be a beautiful tropical island with lush vegetation in some areas, high cliffs, and picturesque beaches.
It contains features that haven't been seen on other maps. This includes a hot air balloon, windmills, a Ferris wheel, and fancy structures. It even has a lift in some buildings to take players up and down while they hunt for loot.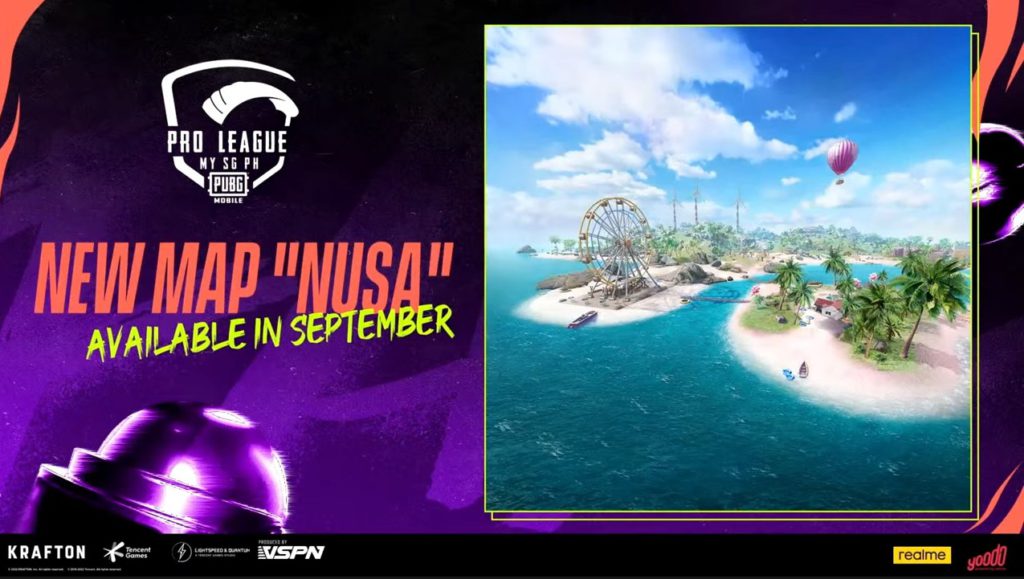 Besides a monster truck, there is also a quad bike that players can use to move. There are also zip lines around the map to allow quick rotations.
Based on the beta gameplay, it looks like PUBG Mobile's new map will have 32 players fighting for the chicken dinner. This means that it will house eight squads or 16 duos.
With the new map Nusa, what does this mean for queue times in PUBG Mobile?
With the release of Nusa, PUBG Mobile will have six BR maps. These include the original battle royale maps of Erangel, Sanhok, Vikendi, and Miramar besides the smaller battlefields in Livik and Karakin.
PUBG Mobile also has many multiple Evo-ground modes like the TDM. With this, it certainly raises questions about the increase in queue times in the game.
It's possible that Tencent may remove a map temporarily, as it did with Vikendi when Karakin was introduced back in April 2021.
---
Stay tuned to esports.gg for the latest esports news and updates.
[ad_2]

Source link