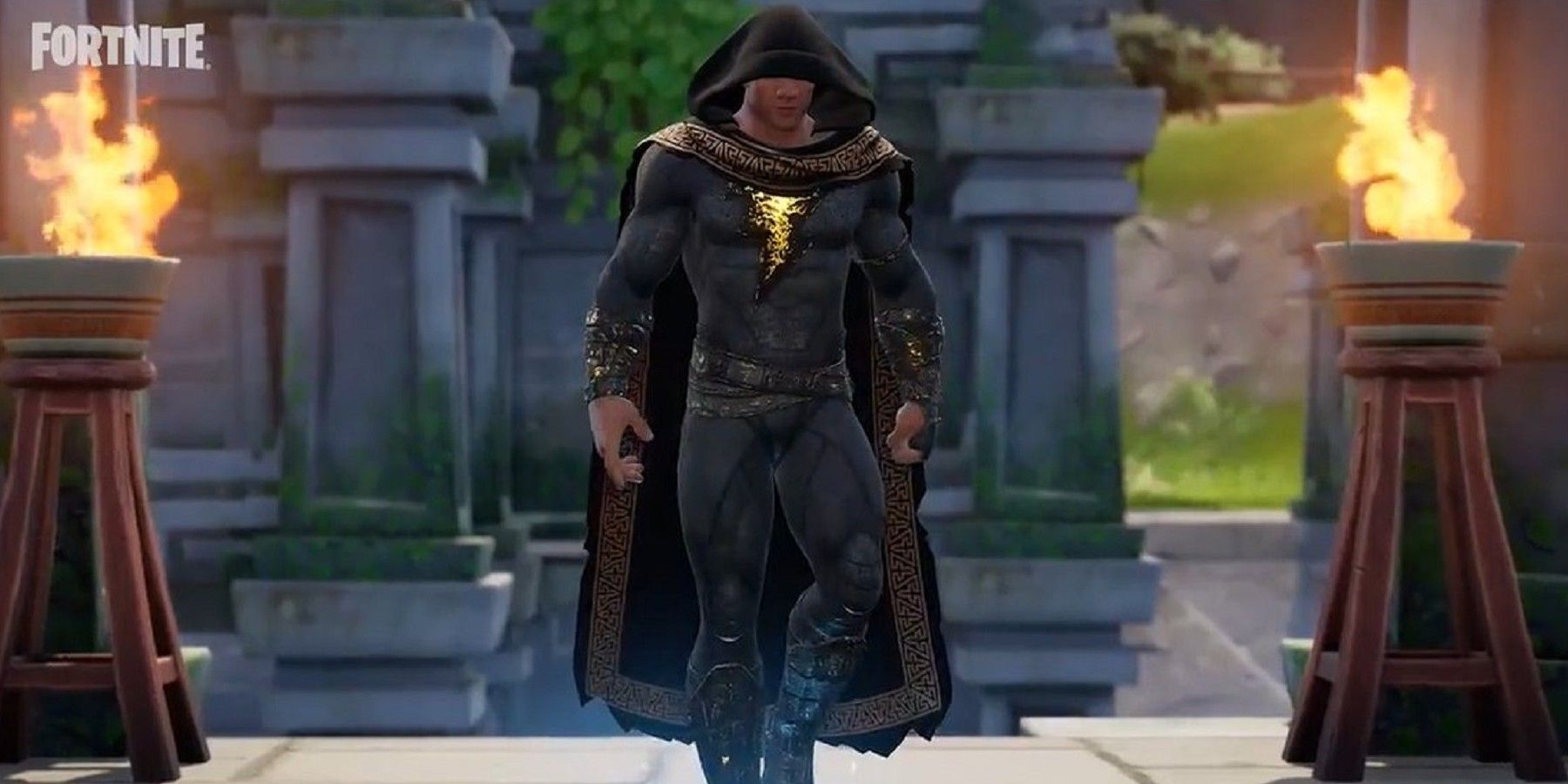 The DC Comics character Black Adam is coming to Fortnite in the near future, with a world premiere Twitch livestream reveal taking place on October 12 at 6:30 PM EDT. Dwayne Johnson has been added to Fortnite already in the form of the Foundation, but he's set to play Black Adam in the battle royale as he will in the DC film of the same name later this month.
Black Adam rolls out to many movie theaters on October 21 and fans of the new DC movie may be able to acquire a Fortnite skin in his likeness in celebration of the film debut. Shazam first introduced characters and lore from the Black Adam storyline in 2019, and fans have anticipated Dwayne Johnson's portrayal of the character ever since. Dwayne Johnson confirmed on his Twitter account on October 11 that the "man in black" Black Adam is getting a proper reveal tomorrow alongside a clip that briefly highlights the DC antihero.
RELATED: Fortnite Hotfix Adds Explosive Goo Gun, Throwable Launch Pads, and More
Alongside the Fortnite skin announcement tweet, Dwayne Johnson shared a video of Black Adam plummeting from the sky as the other battle royale characters do in a typical match after leaving the bus. Zooming in to highlight some finer golden details in the black fabric of his superhero garb, the symbol on the back of Black Adam's cape comes into view and illuminates like a reactive back bling. A golden lightning bolt shape adorns the front of Black Adam's costume in Fortnite as it will in the film and the skin has been shown with and without a hood, suggesting that there's at least one variant.
The Black Adam Fortnite skin is shown floating above the ground with lightning flowing down its arm, but these may have just been effects to make it seem more like the DC character. Many characters like Black Adam that have been released in the past have bundles that come with even more cosmetics, and the reactive back bling may be part of a bigger package that will join the antihero's release. Other DC characters that have already arrived in Fortnite include Aquaman, Batman, Beast Boy, Raven, Starfire, Superman, The Flash, and Wonder Woman.
Many Fortnite fans have taken to Dwayne Johnson's Black Adam skin announcement to express their enthusiasm and anticipation, while some are still waiting for their favorite DC heroes. Noting that Dwayne Johnson is represented by a character in Fortnite already, one Epic Games fan suggested that he get a WWE counterpart skin like John Cena who is also reflected as the Peacemaker.
Fortnite is available now for Mac, Mobile, PC, PS4, PS5, Switch, Xbox One, and Xbox Series X/S.