[ad_1]

Downtown Gangstaz: Online War is a mobile action–strategy game with aspects inspired by gangster culture. Here is a comprehensive beginners guide to aid new gamers in understanding and advancing in Downtown Gangstaz: Online War.
Gameplay Overview
Gamers in Downtown Gangstaz possess their own neighborhood, or hood, that they can expand to make it into an empire. They can also develop there to make it stronger and greater. If you defeat the opposition, their assets will be yours. They can even hire goons to destroy other enemy bases. There are several other features within the game.
Introducing the Basics of Downtown Gangstaz: Online War
The game begins with a tutorial that explains how to play the game. The tutorial starts with a brief narration where an ally tells the gamer about how the rival Big Billy captured the player's base.
The tutorial explains how to rebuild and upgrade several buildings to get resources, and also how to train underlings in order to defeat the enemy at hand. The game also shows how to fight and insert allies to locations where the most can be made of them.
Map and Jobs
The map is divided into two parts. The first is Attack and the second is Jobs. The attack division is divided into three parts. Raids, Bosses, and Bounties. Bounties unlock after level 10 where bounties can be claimed after defeating enemies. In bosses, the map shows the location of where bosses are located.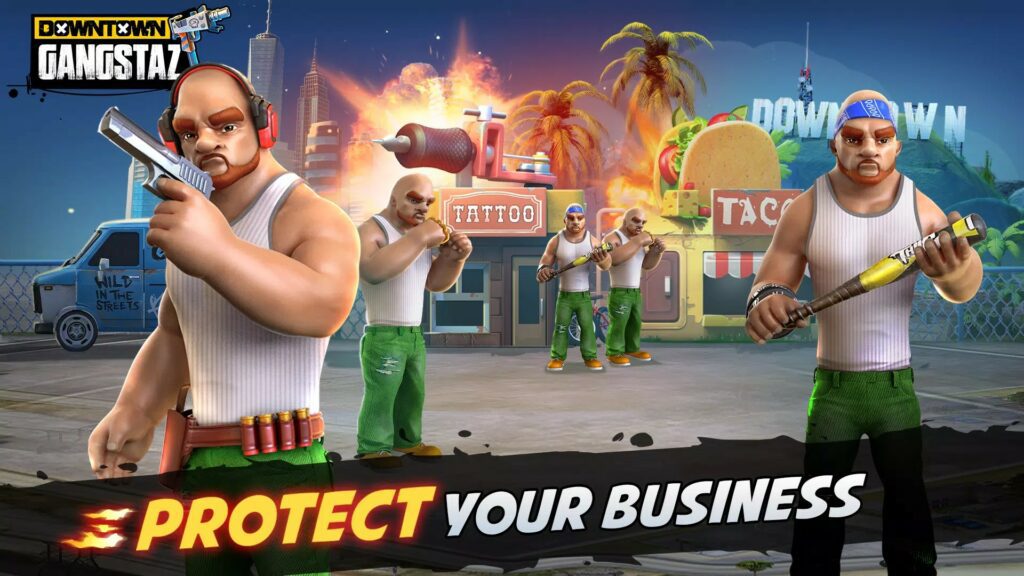 In raids, the location of other hoods will be displayed. The Player can select the location and type of enemies they want to fight and simply click on the option given on the map.
Currencies
There are mainly four types of currencies used in the game. These are cash, stamina, products, and diamonds. Cash is used for upgrades and leveling up buildings and crew. Stamina is used to fight enemies and rivals.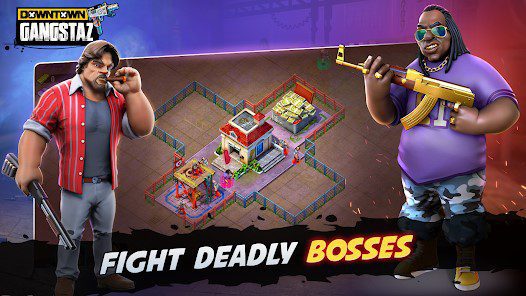 Stamina can be claimed by completing quests and if stamina reaches 0, it will be replenished after a while. Diamonds can be used to buy weapons. Products also can be used to exchange arms and weapons. These can be acquired by defeating enemies and completing quests and milestones.
Upgrading your Levels
In order to upgrade and grow stronger in this game, the player needs to strengthen their hood. To do so, the player must first upgrade the mansion so they can unlock the upgrade potential of other buildings in the hood. After upgrading the mansion, other buildings need to be upgraded.
These buildings can be distinguished in four aspects. Buildings that are related to business, crew, defense, and decorations. As the player grows their levels, more buildings in each aspect will be unlocked. The higher the level, the stronger the access to stronger buildings.
Each resource from the building provides the player with different elements to power up. These include Hit points, range, product outcome, training space, and the most important XP. These buildings can be built by clicking on the build option. The facilities can be upgraded also after a certain level is reached.
The gamer can also acquire and recruit more mobs, after leveling up. This also adds to the process of future growth. The crew consists of 3 types. Bosses, Mercs, and Thugs. Thugs are low-level characters that can be acquired easily. In order to upgrade Mercs and Bosses, the player needs a Meerc workshop and a Boss workshop.
Once a certain level is reached, the player can build these workshops to train their bosses to grow stronger. In order to grow stronger the player needs to fight enemies, and defeat rivals. After doing this they will acquire resources and currencies that will assist them further in the game.
Downtown Gangstaz: Online War Beginners Guide: Tips and Tricks
After investing so much time in this game, here are some of the best tips for beginners in Downtown Gangstaz: Online War:
Make sure to keep completing daily tasks as they offer a decent amount of regard and currencies required for the player to grow stronger.
Keep upgrading your buildings and mansion to further grow your hood.
Keep training crews so your underlings are strong enough to beat rivals.
Keep raiding and completing jobs to acquire resources.
Players must consider upgrading the taco shop in their neighborhood to make and save more money. Players can train more muscular thugs by upgrading the ammunition store, and these thugs can then be assigned to specific buildings or deployed to defeat adversaries.
Conclusion
Downtown Gangtaz is a gangster-inspired strategy game, where the player role plays that of a mafia head, who develops his or her empire by starting from a small little hood. The game has salient features and a good user interface. The map and the location of the hoods and the buildings are clearly distributed in a particular system. Don't hesitate to give it a try and never forget to refer to this Downtown Gangstaz: Online War beginners guide for advice if you run into problems.
That's all from us for Downtown Gangstaz: Online War Beginners Guide! Did you find our Downtown Gangstaz: Online War beginners guide helpful? Do let us know in the comments!
For more Mobile Gaming news and updates, join our WhatsApp group, Telegram Group, or Discord server. Also, follow us on Google News, Instagram, and Twitter for quick updates.


[ad_2]

Source link