[ad_1]

The fourth and final Season of Year 5 of Destiny 2 has just launched. The nineteenth Season is called Season of the Seraph. In this season, players must work with Osiris and Ana Bray to restore the Warmind known as Rasputin. Season of the Seraph follows the exact same formula as previous Seasons.
In order to maximize the amount of rewards they can get in the new seasonal activity, Heist Battlegrounds, Destiny 2 players will need to farm a seasonal currency called Seraph Key Codes. Not only that, but there is also Exo Frame Modules that players will want to track down. Here is how to get both of these new items.
RELATED: Destiny 2 Shows Off Assassin's Creed Armor
How to Get Seraph Key Codes
Seraph Key Codes are obtained by completing activities throughout Destiny 2. Whether it is a Lost Sector, Public Event, or Core Playlists, anything players do will result in getting this new currency as a reward. The amount will vary, but Core Playlist activities like Strikes, Gambit, and Crucible provide players with the most Seraph Key Codes.
For example, looting the chest in a regular Lost Sector awards only 30 Seraph Key Codes. On the other hand, completing a Strike or Crucible match awards between 255 and 285 Seraph Key Codes. So if players want to farm Seraph Key Fragments, the Core Playlists are the most efficient way to do so.
Seraph Key Codes are used in the playlist for the new seasonal activity, Heist Battlegrounds. At the end of this new activity, players will be able to use 500 Seraph Key Codes to open Seraph Chests and get extra rewards.
How to Get Exo Frame Modules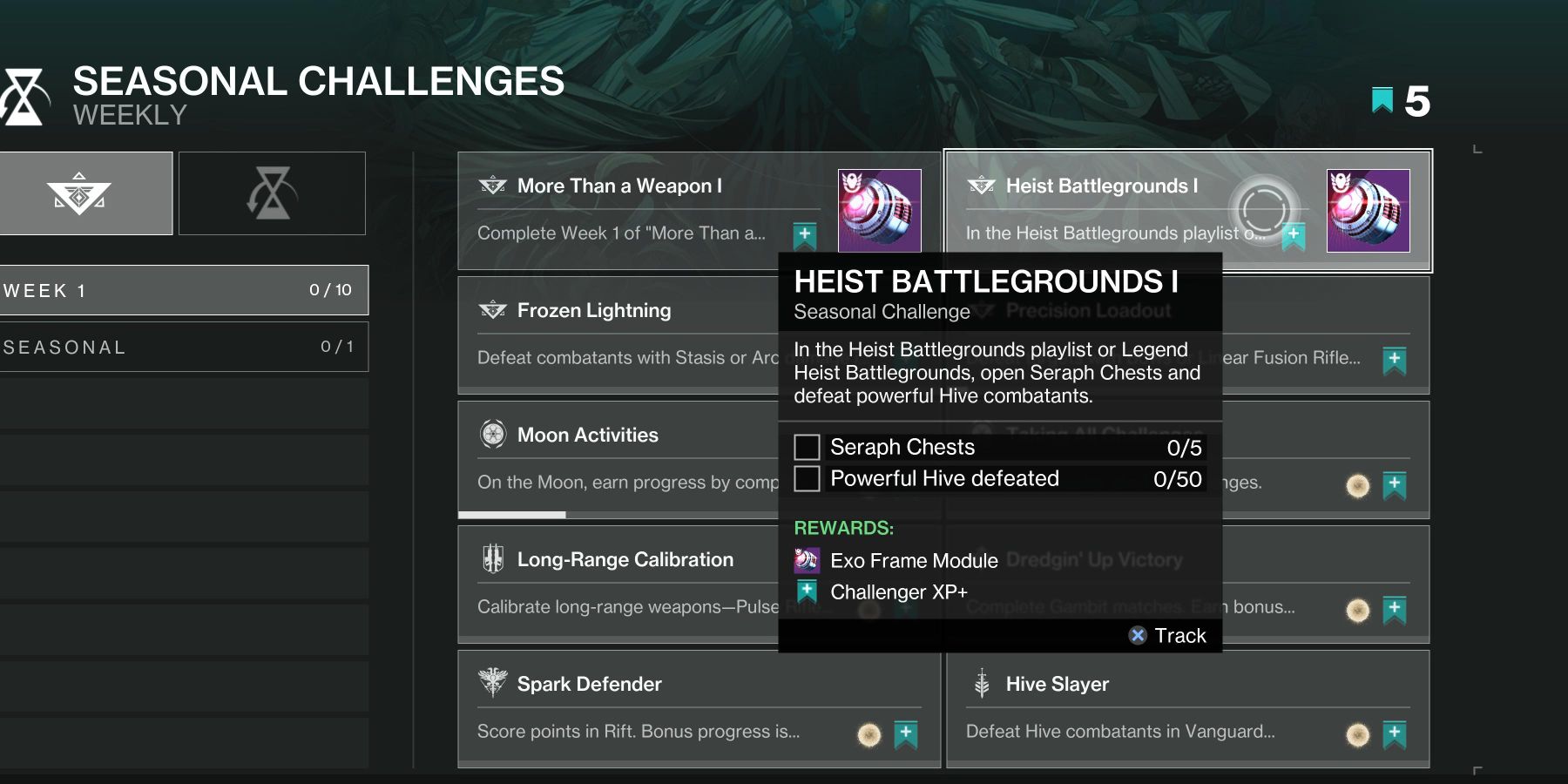 In each Season of Destiny 2, there is an item that players can obtain to upgrade the vendor or item for that particular Season. Season of the Seraph is no exception to this, and the way that players upgrade the vendor is by acquiring Exo Frame Modules.
Exo Frame Modules are acquired exclusively by completing two weekly Seasonal Challenges. For example, in the first week of Season 19 players can get two Exo Frame Modules for completing the first week of the More Than a Weapon quest and the Heist Battlegrounds I Seasonal Challenge. The Heist Battlegrounds I Seasonal Challenge requires players to open five Seraph Chests and kill 50 Powerful Hive.
What Vendor Upgrades Should be Acquired First?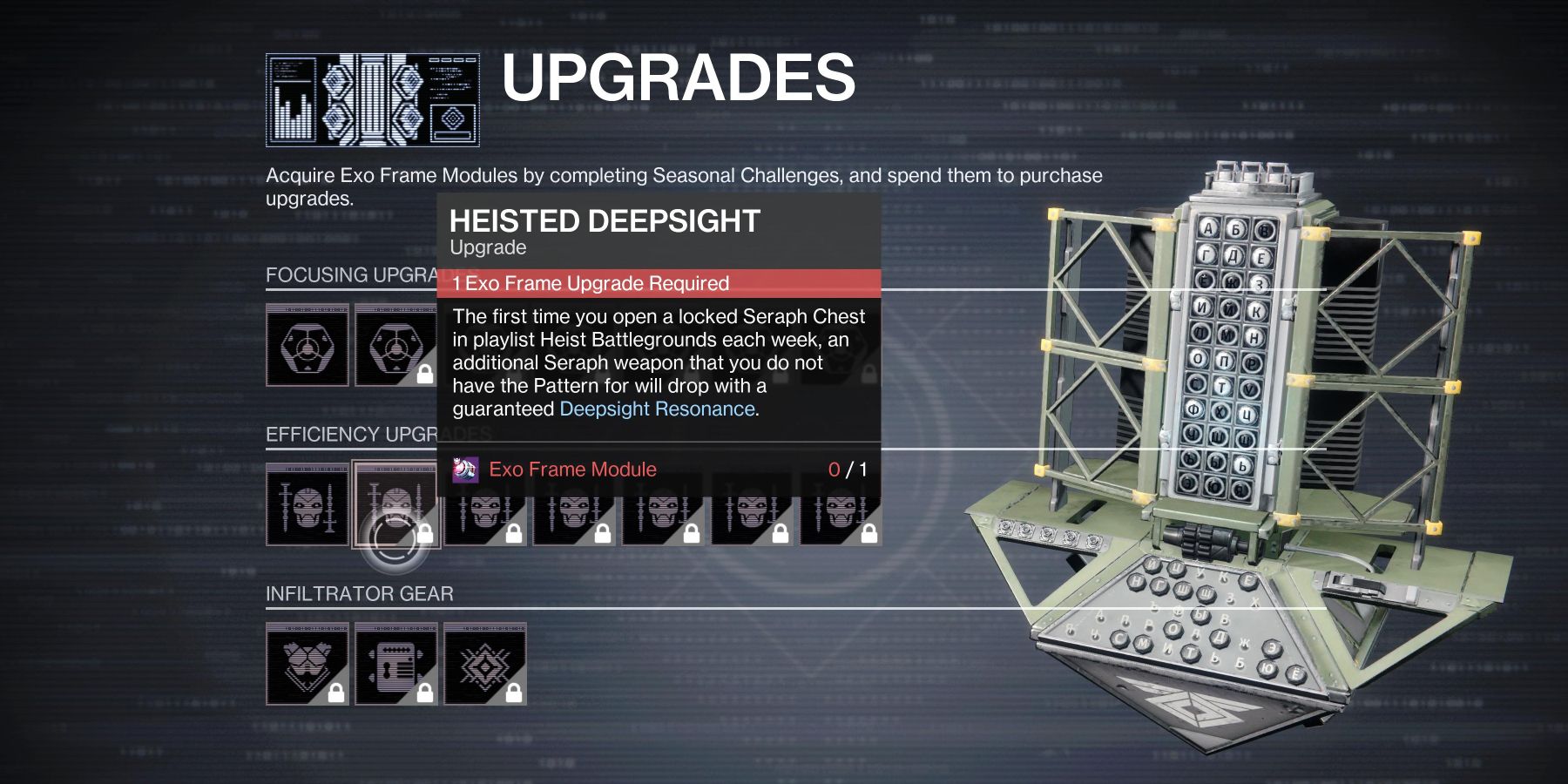 Once Destiny 2 players have the Exo Frame Modules they may be wondering what upgrades they should be focusing on first. At the start of the Season, players should focus on the Effciency Upgrades. The reason for this is that the second upgrade in that section guarantees that a weapon with Deepsight Resonance will drop with the first Seraph Chest that players open that week.
To help ease the pain of unlocking seasonal weapons for crafting, this upgrade will also guarantee that the weapon with Deepsight Resonance will also be one that players have not unlocked the pattern for yet.
Destiny 2 is available now on Epic Games Store, PS4, PS5, Steam, Xbox One, and Xbox Series X/S.
MORE: Destiny 2 Weekly Reset: New Nightfall, Challenges, and Rewards
[ad_2]

Source link